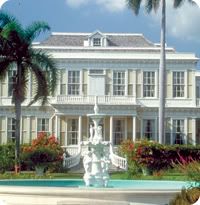 "
Come to Jamaica and feel all right...
"
Jamaica's Tourism Board and famous hospitality resorts are rethinking that phrase today in light of the ominous swift approach of gatecrashing Hurricane Dean.
A Category 4 on the way to 5 Hurricane has also cut short Endeavour's
first space outing since 2002. The astronauts at the space station could clearly see the immense scope of Dean while orbiting in space.
The latest
URGENT

Jamaican advisories
are bracing for a direct hit on the Greater Antilles Island at Kingston.
Based on Dean's official forecast track, the eye of the hurricane is expected to begin moving over the waters just south of Jamaica early this afternoon before tracing a path adjacent to the coastline throughout the rest of the day. During this period, hurricane-force winds are likely to be experienced by most of the island, generating dangerous storm surges and battering waves initially along northeastern coastal areas and then along the southern coast.
Jamaica's poor have the worst shelters
with few resources and will need aid and the world's assistance immediately. While everyone waits, the eye of the storm is that eerie time when sound returns to normal long enough to increase the anxiety as the backside of the storm has yet to pass whipping everything in the other direction. My sister has beautiful pictures from just over a week ago in Jamaica. May those pictures be in abundance in the future along with an outpouring from the international community in Dean's aftermath.
The Yucatan tourist mecca also lies directly within the cone of Hurricane possibilities
and Dean will have strengthened to a full force Category 5 after traveling over the warm bathtub seas of the Caribbean.
On the south coast of China,
Typhoon Sepat has killed
and dislocated
over 900,000 in evacuations.
The Philippine's killer
Typhoon Egay is on track
to hit China.
Typhoon "Egay'' unleashed heavy rain with gusty winds in extreme northern Luzon as it weakened and exited the Philippine area of responsibility and moved toward China.

It weakened even further after crossing the mountainous terrain of Taiwan. As it moved northwest toward China at 11 kilometers per hour (kph), the typhoon's center winds slackened to 120 kph, and its gustiness waned to 150 kph, according to Pagasa (Philippine Atmospheric, Geophysical, and Astronomical Services Administration).
And we are just hitting the halfway point of Hurricane season in the West, while the East has almost another month before the Typhoon season is officially over.
For further updates:
Australia - global feeds at
Australian Weather Watch Radar Network
USA -
NOAA
National Oceanic & Atmospheric Administration has
Hurricane Center
United Nations -
Met Office
(Meteorological) links to each country, nation or kingdom
Peace and hope to all affected!