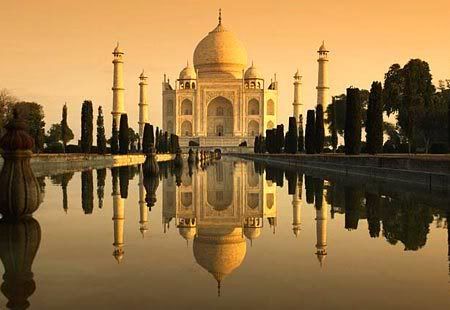 It is a renowned monument to architecture
sixteen years in the making, built from love
, for love and about love from a heartbroken Emperor Shah Jahan to his most favorite beloved wife, Mumtaz Mahal, after she died in childbirth. Years ago, the late Princess Diana famously sat achingly alone on a white marble bench, in front of the building committed to being the most famous symbol of Love. Today, in the city of Agra,
tourists and residents are urged by local police to stay indoors
as rioting follows a traffic accident. The Taj Majal remains open through two of its three gates.
Police imposed a curfew Wednesday in parts of the northern Indian city of Agra that is home to the Taj Mahal and advised tourists and residents to stay indoors after rioting that followed a fatal truck accident, officials said.
Rioting occurred after a speeding truck
, (lorry) careened into a group of pedestrians, killing four Indian Muslims. Riot police reacted killing one person.
Crowds turned violent
throwing stones and other objects at police at the chaotic scene of the traffic accident. Out of a sense of caution, the Taj Majal was shuttered, then reopened shortly afterwards. Tourism at the world famous landmark is expected to remain unaffected by today's incident, but the site of many vehicles burning is not going to prompt tourists to explore the cityscape of Agra. Schools are closed for the next three days in reaction to the violence and to allow tempers to cool.
(Picture from AFP)
Take
a magnificent virtual tour of the Taj Mahal
, considered one of the Eight Wonders of the World, and its garden with all of its breathtaking enchantments.
Or read a beautiful architecture book, giving the history and evolution of Islamic architecture in a variety of settings in
Islamic Art and Architecture: From Isafan to The Taj Mahal
from Henri Stierling.
The Complete Taj Mahal: and The Riverfront Gardens of Agra
by Ebba Koch is just an exquisite book in elegance and beauty devoted to the history of the treasure that is the Taj Mahal.