Being
nouveau riche
in any culture, brings a certain steep learning curve to sophisticated cultural palettes. Those new to art collecting bring bundles of cash, but not nearly as much knowledge about valuing art or making wise long term investments in the medium. Must have art today may not hold its value longer than a few months based on emerging trends.
New artists are not always aware
nor the best judges of how much history's patina adds to a style or body of work.
Art consultant Joy Loh, owner of Eagle's Eye Art Gallery, said modern artists are fighting back at art collectors' pre-conceived ideas of art.

"The young generation artists are into contemporary art. Their paintings are much more conceptual. They would talk about their own ideas and their own childhood experiences and what make them paint the way they do, disregarding how other people view their works," she said.

Besides shaking off preconceived notions of art, art collectors must also learn to discern the exotic from flavour-of-the-moment art trends.
Chinese Art is attracting an intense amount of attention and money in the art world. China and much of southeast Asia are spouting an extraordinary number of new millionaires. One of the advantages to ready capital in Asia is the ability to act quickly in a hot art market. Prior to the Olympics in 2008, everything China has a certain cachet attractive to novice art collectors. A true question is, will the trend last beyond 2008, and during China's woes with toxic pollution and the effects of global warming. (Picture by Sara Krulwich/New York Times)

Keeping cultural artifacts within its borders is also important to China and other southeast Asian nations. If pieces become collected by museums a slow shift in tourism dollars can cause havoc for an economy as well.

In an interesting cultural acknowledgment for "Art Beijing", South Korean art galleries in Seoul, display the newest of young Chinese art talent. The National Museum of Contemporary Art in Gwacheon, Gyeonggi province will feature emerging art talent from around the nation in one of its largest exhibits and cultural art fairs in September. Chinese art is a worldwide phenomenon with European art mavens selecting some of the artists to be featured. In a cooperative effort, Korea will host gallery showings and display the art works of some of the young talent available in China.


Meanwhile, at the National Museum of China, located in the heart of Beijing, works of 15 young Korean artists will be exhibited from Sept. 7-28 under the title ``Wonderland.''

It is an exchange exhibition that comes with ``Floating,'' an exhibition featuring young Chinese artists, currently underway at South Korea's MOCA in Gwacheon. Korean artists to be featured in ``Wonderland'' include Jung Yeon-doo, who was designated as ``Artist of the Year'' by MOCA this year, Lee Hyung-koo, whose works were exhibited in South Korean pavilion at this year's Venice Biennale, and Hong Kyoung-tack, whose work ``Pencil I'' earned a record price of 770 million won at Christie's auction in Hong Kong in May.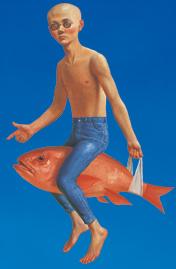 Modern art appeals to a certain sensibility and an appreciation for the immediate. This work by Du Xinjian is available as a screen saver along with art works by other contemporary artists.





More modern connoisseurs will enjoy the powerful

Mahjong: Contemporary Chinese Art from the Sigg Collection

by Feng Boyi, Christopher Heinrich, Uli Sigg, Li Xiantang, Hou Hanru and Matthias Frehner.


My art preference leans towards the calligraphy masters and beautiful period pieces from prior dynasties. Lisa See's books cover some of the gorgeous historical details.