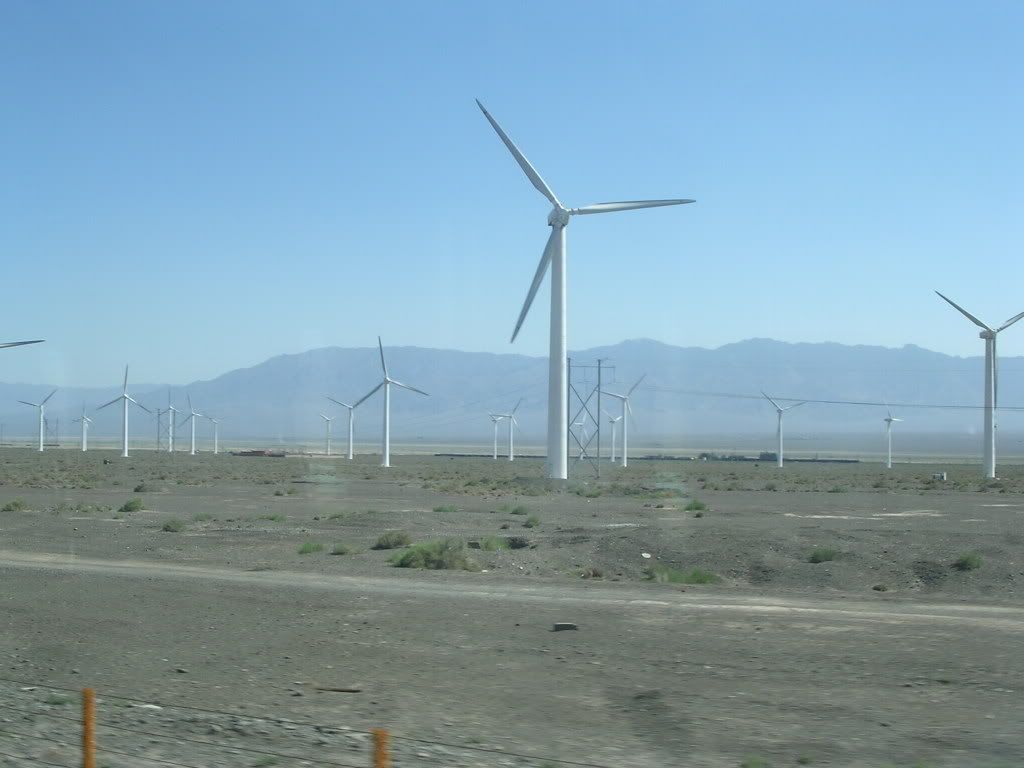 Reducing greenhouse gas emissions is a major priority and anything the worst three polluters can contribute is a step towards making the planet eventually pass its physical. Right now, the Earth is rotating beneath a sky with gaping holes in its protective layer of ozone. The worst three polluters, China, United States and India, are accelerating global warming like a hulking fully loaded Hummer speeding on a steep downhill mountain of ice with no brakes. Scratch that we have the memo, the pictures and the proof Earth's glaciers are melting away due to Global Warming. From this head-on smoking Earth wreck between people and the environment, a concussed grudging
China emerges with wind farms
. India contributes by burning corn husks to demonstrate their growing commitment to reduce carbon emission to do their part to save the earth. A lot of folks believe in Karma.
UN Secretary-General Ban Ki-moon will try to prod the U.S. and China, the world's top two polluters, to join the carbon- credit trading system at today's meeting in New York. Both countries have rejected mandatory emissions cuts as too restrictive.

``No nation can address this challenge on its own,'' Ban said today at the opening of the UN conference. ``We need to confront climate change within a global framework, one that guarantees the highest level of international cooperation.''

``The international negotiations are very much focused on the carbon market,'' Hartridge said. ``I would anticipate a post-2012 agreement which has the carbon market at its core.'' (Just picture him rubbing his hands together...) emphasis mine AFP & AP Photo

At the UN today, Nobel nominee Al Gore, will highlight where we are and how the Earth will suffer a catastrophic failure, toes up in hospital parlance, if we do not do more of the difficult
changes needed to stave off rising seas erasing populated areas, killing of animals we actually take for granted (polar bears, seals), horrifying weather by baking the earth to death in some spots and drowning it in others, epidemic disease outbreaks and further degradation of our water supplies. US corporations, Morgan Stanley among them, are gleefully promoting their companies carbon credit trading products. Former Global Warming denier, George Bush, decided to skip the
UN meeting with 80 other nations
and hold his own separate climate change chit-chat fest with excellent cocktail weenies on Thursday in DC and meet UN Secretary General Ban Ki-Moon for
just a dinner
with no Global Warming stuff that could turn his delicate gut. How's that for demonstrating world leadership? However, my
movie star Governator saw fit to address the UN on Climate Change
today.
(AP photo)


An American National Treasure, Al Gore wrote the foreword to an amazing collection of resources, explanations and actions for the world to engage in and organizations to contact in
World Changing: A Users Guide for the 21st Century
by Alex Steffen. A book that heralded his advocacy at the highest level is a must have book for every environmentalist's library,
Earth in the Balance: Ecology and the Human Spirit
. Al Gore worked for years to write it and it is the forerunner to the Academy Award-winning presentation of film,
An Inconvenient Truth
.