Oscar winner, George Clooney, displays his political savvy on a multitude of intractable issues.
His straightforward endorsement of Barack Obama for president
comes amidst the release of his new film at the prestigious Venice Film Festival. Clooney who knows a tad about fawning adulation notes
Obama's rock star status.
"You've been in a room once in a while with a rock star. He walks into the world and he takes your breath away. I'd love him to be president, quite honestly," Clooney told a group of international reporters at the Venice Film Festival, where the legal thriller Michael Clayton in which he stars premiered last night.





Clooney, who banked a check for Obama at a private 1.3 million US dollar (£645,000,) fundraiser in Beverly Hills, California, in February, praised the US senator from Illinois for displaying courage in 2003 by writing "a piece saying how stupid going into that war was going to be".
Skip the hunk fluff. Clooney is more interesting because of his dexterity with other real world subjects. He has long-range environmental and foreign policy vision plus a heavy investment in fuel cell technologies. Clooney also takes an avid interest into the local and national politics of Italy because he owns a home on, not in, Lake Como. Most of all, he is interested in American politics because Obama had the sense of the stupidity of a War in Iraq in 2002 and said so aloud. Good and proven Judgment matters in an age where incompetence dominates American politics as many Democrats aided and abetted the Iraq Debacle.
Hollywood stars often campaign for presidential candidates to varying degrees of success. Clooney says he would endorse Obama and promise to not go anywhere near Obama, if it would help him win the White House. Now that's a superstar Hollywood pal. Next week,
alongside a wedding contretemps
, A-List Hollywood, including George Clooney, are turning out in droves for mega media mogul's
Oprah's

Celebration

for Barack Obama
.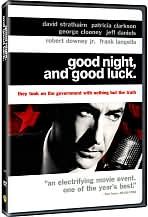 Clooney's choice of films mirrors his interests. He acknowledges the Academy Award nominated

Syriana

and

Good Night & Good Luck

are reactions to the tyrannical policies of the republican messes in American politics. They are both excellent keepsake films with

Syriana

providing a formidable contextual montage for the systemic issues involving the Middle East & US politics based on a book by the CIA's Bob Baer.